Pick a Theme that compliments your Site
Linking your events listed on Gospel Gigs to your website is easy.
First you will need to set up your account here at Gospel Gigs.
After you have set up your account, make note of your GROUPID. Your GROUPID is the same as your login username.
Find a theme below that works best with your website
Copy the link for that theme. Be sure to replace GROUPID for your personal GROUPID.
Use that link on your website to link to your gigs at Gospel Gigs.

PLEASE NOTE: This customized link is only the link to your customized calendar - it does not provide the code for implementation on your site. This allows you the flexibility to implement the link using the method that best works for your site - whether it is a simple link to the calendar, an iframe, a pop-up....whatever! The choice is yours.
If you don't see a theme that works for yor website, contact us and we'll see what we can create for you!
Available Themes
Theme #1
Description: This Theme uses the basic colors and interface of Gospel Gigs.
Theme Snapshot: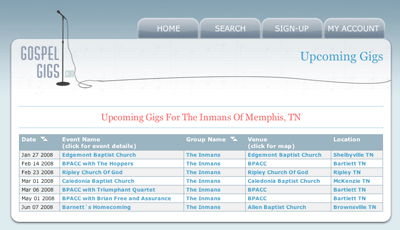 Link to this Theme: http://www.gospelgigs.com/gigsearch.asp?group=GROUPID
---
Theme #2
Description: This Theme uses the gray, black and blue - no site interface.
Theme Snapshot:

Link to this Theme: http://www.gospelgigs.com/gigsearch2.asp?group=GROUPID
---
Theme #3
Description: This Theme uses red & gray - no site interface.
Theme Snapshot:

Link to this Theme: http://www.gospelgigs.com/gigsearch3.asp?group=GROUPID
---
Theme #4
Description: This Theme uses periwinkle & gray - no site interface.
Theme Snapshot:

Link to this Theme: http://www.gospelgigs.com/gigsearch4.asp?group=GROUPID
---
Theme #5
Description: This Theme uses purple, teal and lime - no site interface.
Theme Snapshot:

Link to this Theme: http://www.gospelgigs.com/gigsearch5.asp?group=GROUPID
---
Theme #6
Description: This Theme uses shades of purple - no site interface.
Theme Snapshot:

Link to this Theme: http://www.gospelgigs.com/gigsearch6.asp?group=GROUPID
---
Theme #7
Description: This Theme uses shades of green - no site interface.
Theme Snapshot:

Link to this Theme: http://www.gospelgigs.com/gigsearch7.asp?group=GROUPID
---
Theme #8
Description: This Theme uses shades of brown - no site interface. (Based on The Inman's site)
Theme Snapshot:

Link to this Theme: http://www.gospelgigs.com/gigsearch8.asp?group=GROUPID
---
Theme #9
Description: This Theme uses dark blue, gold and light blue - no site interface. (Based on The Hopper's site)
Theme Snapshot:

Link to this Theme: http://www.gospelgigs.com/gigsearch9.asp?group=GROUPID
---
Theme #10
Description: This Theme uses southwestern colors - no site interface. (Based on Triumphant Quartet's site)
Theme Snapshot:

Link to this Theme: http://www.gospelgigs.com/gigsearch10.asp?group=GROUPID
---
Theme #11
Description: This Theme uses Tan, Blue and Orange - no site interface. (Based on The Booth Brothers site
Theme Snapshot:

Link to this Theme: http://www.gospelgigs.com/gigsearch11.asp?group=GROUPID
---
Theme #12
Description: This Theme uses black gold & tan - no site interface. (Based on the Dove Brothers Quartet website)
Theme Snapshot:

Link to this Theme: http://www.gospelgigs.com/gigsearch12.asp?group=GROUPID
---
Theme #13
Description: This Theme uses dark teal, gold and black - no site interface. (Based on the Brian Free & Assurance website)
Theme Snapshot:

Link to this Theme: http://www.gospelgigs.com/gigsearch13.asp?group=GROUPID
---
Theme #14
Description: This Theme uses rust, tan and black - no site interface. (Based on the Jeff and Sheri Easter's website)
Theme Snapshot:

Link to this Theme: http://www.gospelgigs.com/gigsearch14.asp?group=GROUPID
---
Theme #15
Description: This Theme uses black, white and blue - no site interface. (Based on the CSK Trio's website)
Theme Snapshot: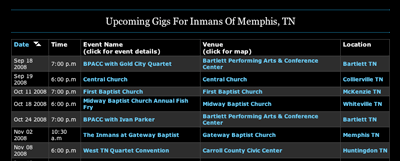 Link to this Theme: http://www.gospelgigs.com/gigsearch15.asp?group=GROUPID
---
Theme #16
Description: This Theme uses black, white and blue - no site interface. (Based on the The Stamps Quartet's website)
Theme Snapshot:

Link to this Theme: http://www.gospelgigs.com/gigsearch16.asp?group=GROUPID
---